Deepening our ties to Baltimore, the nation, and the world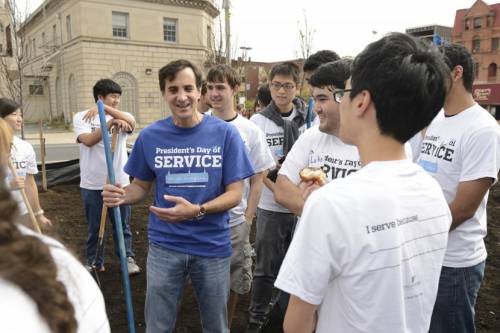 Johns Hopkins is nested in local, national, and international communities. The university is not only in Baltimore—it is truly and proudly of Baltimore. As the city's largest anchor institution, firmly rooted in its past and its future, we recognize that the success of our institution is inextricably linked to the success and well-being of our city and our neighbors. We have manifested this commitment through the expansion of collaborations with city schools, including the establishment of Henderson-Hopkins and the highly successful Vision for Baltimore; the launch of our HopkinsLocal economic inclusion program; the investments in our communities through the Homewood Community Partners Initiative (HCPI) and the East Baltimore Development Inc. (EBDI) initiative; and the formation and strengthening of countless community partnerships, including with the workforce development program Turnaround Tuesday that provides job training and placement for formerly incarcerated people.
We are connected in a similar way to our larger national and international communities; our education, research, and medical care extend to every corner of the country. And no academic institution has demonstrated a greater commitment to the developing world, or played a larger role in seeking to remedy the impact of the gaping disparities in wealth, health, and education around the globe. Our university has the capacity to contribute so much to the communities of which we are a part. We must galvanize our intellectual and moral strengths—for the betterment of our communities and the betterment of ourselves.
Additional Resources